Our Work
From custom metal roofing to slate tiles and asphalt shingles, Shelter Construction Services specializes in a variety of roofing materials. All of our roofing contractors are highly trained and proficient in the installation process of each specialty roof. To ensure you find the best style for your residential or commercial property, our roof selection includes a vast amount of color variations and textures.  To view more pictures visit our completed job gallery on Google.
At Shelter Construction Services, we never cut corners and are proud to stand behind our quality products and superior workmanship. We prioritize customer satisfaction in every roofing project we take on and ensure each client is happy with the finished result. Check out some of our latest work at our completed job gallery.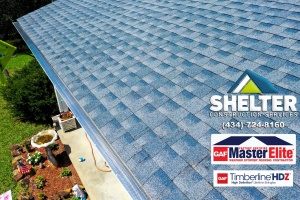 We take pride in our work.  As a company we attend multiple training events each year in order to insure the highest quality of installation, product knowledge, and overall experience for you our customer.  Our team has roofs and we know the agitation a roof leak creates.  Call us for the fastest response.  Our commitment is to respond within 24 hours of any issue and to provide you with the best solutions available!
Be sure to visit our Facebook Page and Youtube page for Pictures, Information, and more!  It is so important for us to educate our Customers on things related to one of the biggest investments of their home the Roof System.  You may replace is once or perhaps twice in your life time.  Bad installations will increase that number and we do not want to see that happen.
Shelter Construction Services