Shelter Construction Services Roofing Contractor in Danville, VA
We are a Danville VA residential roofing contractor that is a locally-owned and operated roofing company dedicated to providing homeowners with a dependable high-quality roofing system. Shelter Construction Services Roofing Contractor is known for our outstanding attention to detail and courteous customer service.
GAF Certified Master Elite Roofing Contractor
Atlas Certified Pro Select Roofing Contractor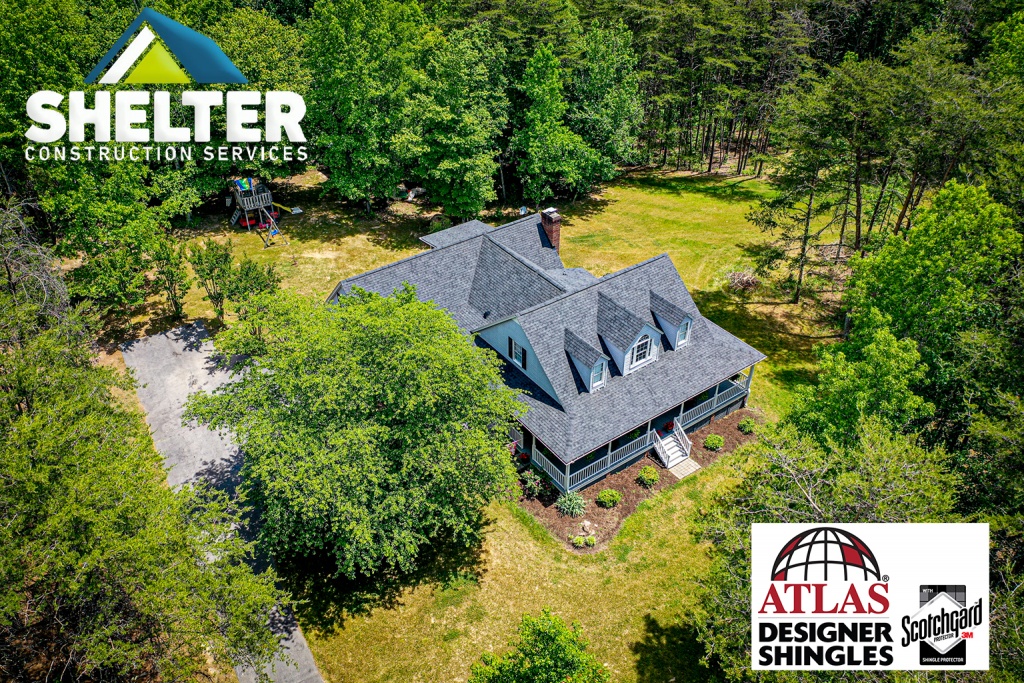 Residential Roofing Services
We prioritize the safety of your home and those it protects. We are a roofing contractor that has  a combined 100 years of industry experience and provide a range of comprehensive services to keep your roof beautiful and working efficiently. The team at Shelter Construction Services receives continuous training on leading installation practices and the latest technology, so you can ensure quality workmanship in every project we complete. We offer the following residential roofing services:
Roof replacement

Roof inspections & maintenance

Insurance assistance

And more!
We represent top-tier manufacturers like GAF with endless shingle options in a wide variety of colors and styles. We even specialize in premium slate roofing installation for an unbelievably beautiful home exterior that will instantly increase your resale value.
Why We're the Top Choice
With so many roofing contractors in the area we understand that it can be difficult to know you are choosing the right one. Here is why Shelter Construction Residential Roofing is a right choice in Danville, VA & Pittsylvania County:
We value your time. Our contractors always show up to the job site on time and follow strict schedule guidelines to ensure your roof is completed within the timeline we originally quoted.

We pay attention to detail We take pride in our work. We never cut corners and use the latest measuring tools and technology to ensure precision workmanship, every time.

We keep open lines of communication. We never "leave you in the dark" when it comes to your roofing project. Communication is key, and we keep you informed throughout the process.

Delivering Value  We focus on a multiple product approach.  Giving you the ability to understand what products are available for your situation and budget.

We Offer Financing  Our focus is providing solutions to have your new roof or repair completed in a timely manner to protect your other assets.  Financing delivers a budget friendly approach to a large priced repair project.
Schedule a Free Roof Estimate
We'd love to hear from you! Call the trusted residential roofing contractor in Danville, VA. Call Shelter Construction Services at (434) 724-8160 or fill out our online form to schedule your appointment and receive a free roof estimate.